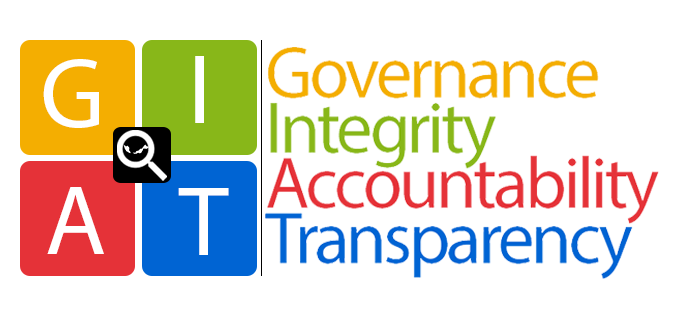 GIAT Coalition
Kuala Lumpur, 21 ​July 2017 – ​The GIAT Coalition invited members of civil society, academics, politicians and government officials to participate in a roundtable to launch of the 5-Point Good Governance Agenda for GE14.
​GIAT is a coalition of civil society organisations that consists of the Institute for Democracy and Economic Affairs (IDEAS), Centre to Combat Corruption and Cronyism (C4), Sinar Project, Transparency International-Malaysia and Friends of Kota Damansara. It was formed to advocate for a transparent, open and corruption free Malaysia in line with principles of impartiality, justice, openness, solidarity and honesty. In light of the upcoming General Elections, the 5-Point Good Governance Agenda serves to present a list of demands to ensure all political parties are accountable and committed to necessary reforms:
Endorse legislation that will affirm the independence of institutions, most importantly the Malaysian Anti-Corruption Commission (MACC) and the Attorney General's Chambers.
Enact a national Freedom of Information law, review the Official Secrets Act 1972 and adopt open data principles.
Require by law that all cabinet members, Members of Parliament, elected officials and senior public officials to publicly declare their assets.
Implement the practice of budget and expenditure transparency at all levels of government, including participatory budgeting and monitoring mechanisms.
Require by law that all political parties publicly declare all forms of income and expenditure.
Tricia Yeoh of IDEAS highlighted the central role played by the MACC and the Attorney General in combating corruption. She proposed that the Independent Anti-Corruption Commission (IACC) be established as a constitutional body, and for the separation of the Attorney General's and Public Prosecutor's roles, which are currently held by the same person. Professor Terence Gomez emphasised especially on the importance of institutional reforms that will strengthen the independence of bodies like the MACC, noting that the general problem is not that they are inefficient. Rather, selective enforcement endemic to such institutions has been the primary reason to why they have failed to keep politicians in power accountable and transparent.
Khairil Yusof of Sinar Project highlighted that the lack of a clear definition for what constitutes a secret in the Official Secrets Act 1972 has led to the use of the legislature to silence dissent and restrict access to critical public information. Examples shared include highway and water concession agreements, and the 1MDB Auditor General's report. More importantly, a Freedom of Information Act must be enacted at the federal level.
Furthermore, Mr Ho Chai Yee of Citizens' Network for a Better Malaysia expressed his frustration with the lack of follow-up from the government's end on recommendations made by members of the public. While acknowledging that townhalls are frequently held, the absence of an effort to ensure all parties are continuously engaged and informed on federal projects has stifled public participation and diminished political will to take action.
YB Dr. Tan also indicated that political parties from both sides of the aisle have a vested interest to obstruct political financing reforms as it would weaken their ability to accrue and maintain the support network that guarantees their position of power. Ms Ivy Josiah of PROHAM added that the agenda should include a commitment to liberate the media from political handling, remarking that journalistic bodies are deterred from asking the "big questions" as they fear the revocation of their license.
Ms Cynthia Gabriel of C4 concluded by noting that while independent institutions are crucial, the public must be at the heart of civil movements and the system must allow for the disclosure of information that would give way to civil engagement and participation. To address the regression of our nation, GIAT is of the opinion that the 5-point Governance Agenda is critical and call for an early endorsement by political parties.
Among the attendees were YB Dr. Tan Seng Giaw, YB Ong Kian Ming, Datuk Halimah Mohd Said of P-CORE, Mr Alan Kirupakaran of the Prime Minister's Office and Wilson Wong of PEMANDU.
END
For media enquiries: T: +603 6201 8896/ 8897 E: tricia@ideas.org.my
About ​GIAT
​The GIAT coalition is made up of the Institute for Democracy and Economic Affairs (IDEAS), Transparency International Malaysia (TI-M), Sinar Project, Centre to Combat Corruption and Cronyism (C4) and Friends of Kota Damansara (FoKD). It works towards curbing and eradicating corruption in the country.