Youth Integrity Programme
TI-Cambodia hosted the the first TI International Youth Camp on 'Youth Empowerment for Transparency and Integrity' on 4-10 January 2015 in Siem Reap province, attended by youth delegates from Malaysia, Cambodia, Indonesia, Pakistan, Philippines, Vietnam and Bangladesh for 5 days. The delegates participated in sessions on human rights, good governance, the separation of power and international anti-corruption frameworks, presented by leading experts in the field. The participants also developed project proposals on a country initiative to implement back in their home countries, based on the principles of good governance, integrity and anti-corruption, which they will be leading and coordinating with the support of their TI Chapter.
Most significantly, the youth delegates established themselves as a regional movement: the Youth Movement for Transparency Asia (YMTA), in which they are collaborating to promote and raise awareness on corruption issues and the significant role of the youth in combating its prevalence across the region. As a movement, they are implementing a joint initiative to gain momentum and engage with other youth across Asia. The first, in a series of activities, is the 'Arts for Transparency' competition they will be hosting and launching in mid 2015.
Introducing TI-M's three representatives who attended the camp, who are now working on their first country initiative to promote integrity and raise awareness on corruption issues in Malaysia. Find out more on their experience at the camp in their blogs below: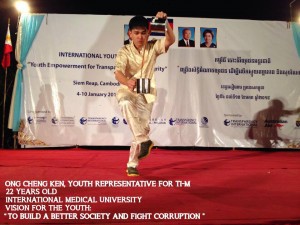 1. Ong Cheng Ken shares puts pen to paper on his one week experience in Siem Reap in his blog. Here is the link:
A new beginning, and things will change by Ong Cheng Ken
2. Mei Hwa shares her experience on how the camp has determined her role as a corruption fighter in 2015.
Youths in Combating Corruption by Wong Mei Hwa
Nicholas shares his standpoint on the empowerment of youth in combating corruption in his blog: