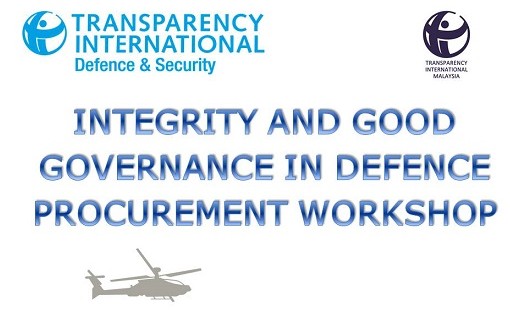 Transparency in Defence
On the 23rd of August 2016, Transparency International – Malaysia (TI-M) and Transparency International – Defence & Security (TI-DSP) held a joint workshop on the subject of Integrity and Good Governance in Defence Procurement.
Dato Akhbar Sata, president of TI-M, opened with a welcome address. This was followed by the keynote address by Abdul Samat Kasah, the Director of Strategic Communication at the Malaysia Anti-Corruption Commission (MACC). He explained how defence is tricky because it involves both high spending and high secrecy for national security reasons, thus ethics are needed and complacency must be avoided.
The first speaker was Mr Agus Rahardjo, Chairman of the Corruption Eradication Commission of the KPK, to speak about defence procurement in Indonesia. He explained that all of Indonesia's defence equipment is imported from other countries, which is a problem since the government generally does not contact the producer, and is instead always worked through a third party with very little checks and balances. Planning and budgeting are also not transparent or clear, and though there is an electronic program, the military generally tries to procure without it. He suggests getting rid of the middle man, improving payment systems, and increasing price transparency.
Also attending the workshop as a speaker, Attorney Maria Teresa Lee-Rafois, Director of the Fact Finding and Investigation in the Office of the Deputy Ombudsman (Philippine), briefed participants on the defence procurement in the Philippine. She explained how strong progress is being made in Philippines in comparison to other countries in the region, given that the law to prosecute corruption and bribery is actually there, and their President is being strong against corruption and bidding. However, despite the law, when bad people are in command in the military or businesses, the law won't work. Her Bureau also has only 20 investigators, and the amount to investigate is beyond their ability at the moment. She also talked through a few cases of corruption in procurement she had investigated, explaining their origins and what was done to charge the offenders.
Speaking on the issues of transparency in the Malaysian military was Ms. Cynthia Gabriel, founder and director of the Centre to Combat Corruption and Cronyism (C4). She explained that Malaysia's defence budget could soon see a steep increase due to China's aggressive claims on the South China Seas, as well as the possibility of ISIS becoming an imminent threat. This would be worrisome, however, because Malaysia has no defence white paper in Parliament, nor a committee to discuss defence budgets, policies, or increases. Members of Parliament themselves do not even know how much or what exactly has been spent. She went on to explain how the prevalence of bribery in the military causes a multitude of problems, including a risk to national security through the shoddy equipment purchased, as well as the economic problem from the huge loss of money. She summarized that Malaysia needs have open tender contracts and a clear defence policy.
We then had a riveting Q&A session, followed by Ms Michelle Man and Mr Tobias Bock from the TI-DSP presenting on the corruption risks around the use of agents in defence procurement. Michelle explained that risks of utilizing agents include them working with little oversight, despite working on behalf of their companies, while having very close interactions with governments. They are paid on commission, so want to make a deal no matter the cost, they don't care about ruining relationships as would in-office people when offered a bribe, and their after-sales contracts are subject to much less scrutiny.
Tobias brought up the good point that a way to ensure that a growing defence budget does not simply end up causing more conflicts with regional neighbours is to actually be more transparent so that they know the money is focused on defence, not offensive weaponry. Both also explained Transparency International's Government Defence Index, and how countries receive their ratings.
Another Q&A was put to our panel, again with interesting discussions, and then Mr Tobias Block closed out the workshop. It was a greatly thought-provoking and illuminating workshop, and a big thank you is due to everyone who could participate!
Relevant publication: Licence to Bribe