Youth Integrity Programme
TI-M's Annual Youth Debate 2017 was conducted, this time in collaboration with Asia Pacific University (APU). Not following the traditional one-day debate event, TI-M co-organized the debate through APU's one-day forum, titled 'Good Governance and Forensic Accounting: The path to Transparency, Accountability and the Rule of Law". An estimated of 100 Forensic Accounting students and a few APU lecturers attended the forum.
The forum began with a presentation by Dr. Muhammad Mohan (Secretary-General, TI-M) on business corruption. He spoke about the common types of corruption in the corporate field and cautioned students that temptations and opportunities to commit corruption will arise once they get to the working field. He stressed that it is important for current students to be aware of it and prepare themselves to deal with the situation in a rightful and proper manner.
The forum then moved on to the Youth Debate 2017. The motion for the debate was "Privatization will serve the Public Interest" and the judges for the debate were Dr. Muhammad Mohan (Secretary-General, TI-M), Mr. Sivasangaran Nair (Member of TI-M) and Ms. Meera Eeswaran (Lecturer from APU).
The one-hour showcase debate featured three debaters in each of the two groups. Though both the groups brought out many points, the team opposing privatization won the debate, bringing on many substantial facts and strongly defending their standpoint.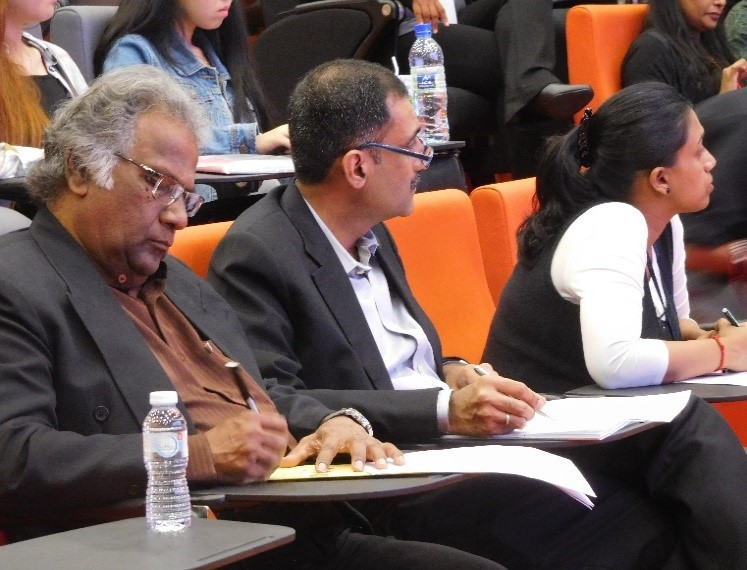 Judges of the debate: Mr.Siva Nair, Dr. Muhammad Mohan & Ms.Meera